In May, 18 of our members went on a 4-day trip to Portugal. This was the first trip abroad for our members since the pandemic commenced. The trip was booked through our exclusive travel partner Winged Boots, and Portugal was selected for the golf and vibrant nightlife.
This trip was an opportunity for members to strengthen relationships while having a luxurious holiday with planned fun activities, as well as for Bizpedia to provide more value to members.
The members left Heathrow airport on the 11th of May and arrived at Faro airport on the same day. When they arrived, they had a private transfer to the stunning Anantara Vilamoura Algarve resort, where they checked in. Each member had their own luxury deluxe garden view room with spectacular views of golf greens.
Once checked in, the members playing golf headed to the prestigious Dom Pedro Old Golf Course. The other 10 guests not playing golf enjoyed drinks around the pool. The Dom Pedro Old Golf Course is one of the most prestigious in Villamoura. It has 18 holes, however they did call it a day after 15 as everyone was playing pretty badly! Following on from golf, members enjoyed a delicious meal at the hotel and enjoyed the evening celebrating Karen Oliver's birthday with a cake and drinks.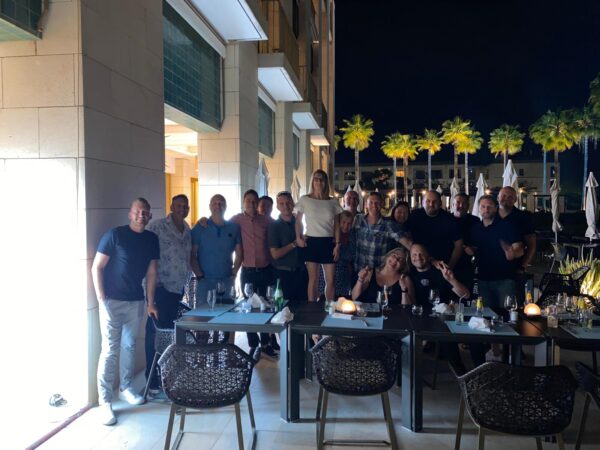 On the second day of the trip, the members played another round of golf, but this time at the Dom Pedro Victoria Course which was situated at the hotel. The winning team was Jason Oliver, Josh Falla and David Ox and the closest-to-the-pin winners on the day were Josh Williams and Jason Oliver.
The third day consisted of a Sunseeker trip where the members got to enjoy the sun, and take in the breeze of the sea and the views. Members set sail from the Villamoura Marina on 2 boats. All-inclusive drinks were provided, and they stopped for lunch at the Evaristo Restaurant. After returning from the day at sea, members went back into the Marina for dinner at the lively and renowned News Café Restaurant.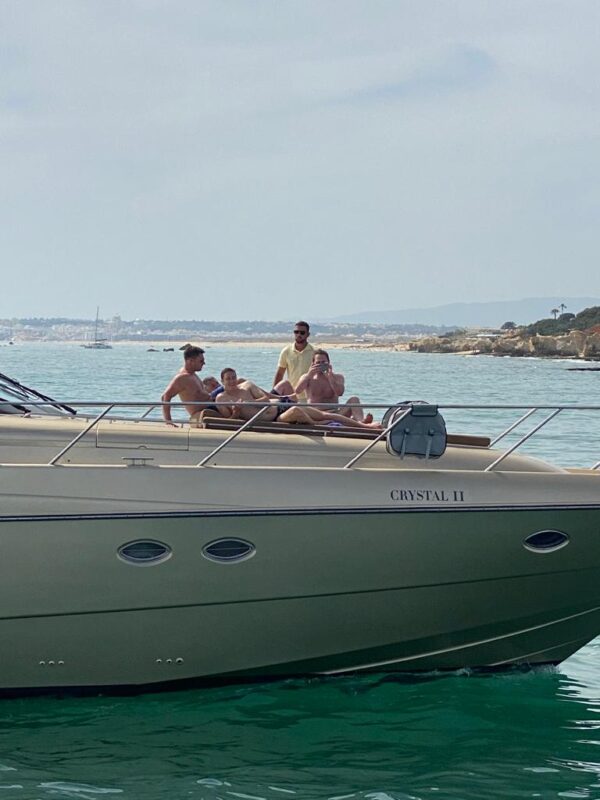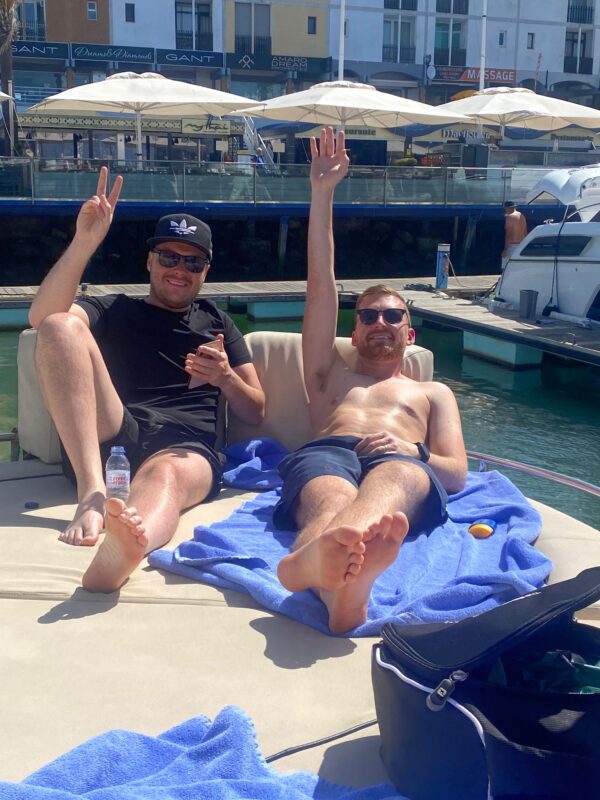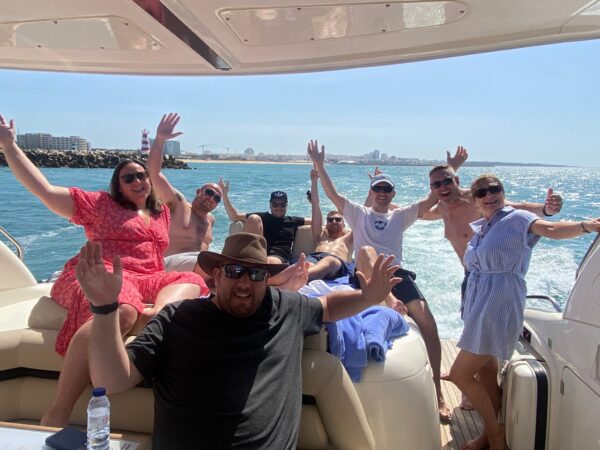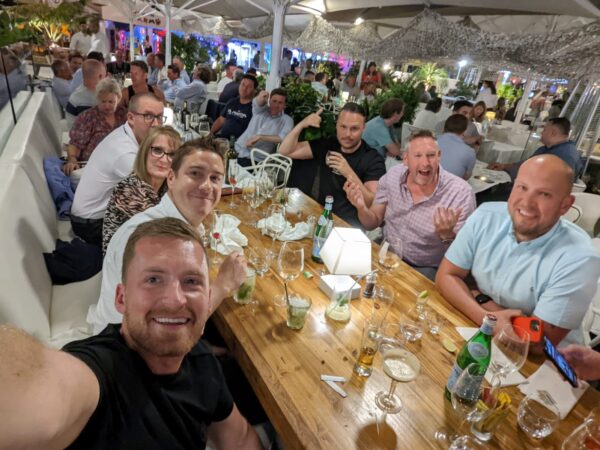 It's fair to say that there was plenty of partying and laughs on the trip in general, but as the saying goes, "What happens on tour stays on tour".
"Thanks, Josh, for organising an amazing trip and making my birthday special. Had a wonderful time with you all, great memories."
"What an amazing time away! Thank you everyone, couldn't have had a better crowd! And thanks Josh and Michelle, you guys did a great job organising it all. Already looking forward to the next one."
David, Managing Director at Winged Boots commented: "We loved planning Bizpedia's first international trip and I was fortunate enough to attend and spend three-days with Josh and the members. It was a great getaway and I'm already looking forward to the next one.
Vilamoura is a fantastic destination and the Anantara provided a great base for the trip. A highlight for me was the day trip on two Sunseeker yachts as I got to know more members who I hadn't yet spoken to on the golf green. I look forward to assisting Bizpedia with its future international trips and sharing complimentary travel advice and holiday quotations to all of Bizpedia's members."
Josh Williams, Founder of Bizpedia commented: "It was so nice to be able to travel with Bizpedia members internationally again. I am so excited to launch a new international membership package to our members off the back of this successful trip. The whole event was so much fun, but more importantly, I could see how impactful it was for developing and enhancing relationships within our community. A special thanks and shout-out must go to Michelle Martin our personal travel manager from Winged boots, her service and attention to detail in organising this trip was amazing! I couldn't have done it without her."
The yearly international event will be offered for a small fee to existing members as part of their membership.
If you are interested in being part of our exclusive club in which you can meet high-quality business owners while undertaking new activities and visiting elite locations, please contact us via our website. Past events have included a cookery class, skydiving, a Bombay Distillery tour, a meal at The Shard, and a special forces experience.