Summer is a season of warmth, joy, and celebration, and what better way to celebrate the amazing members of team Bizpedia than to host an unforgettable Summer Party? 
This year, we were lucky enough to spend our Summer Party at The Italian Villa in Poole! 140 guests, amazing three-course meals, and two incredible entertainers.
The Italian Villa at Compton Acres really was a sight to behold, as our guests stepped into the grounds of Compton Acres, they were greeted with stunning Mediterranean architecture and lush greenery as well as a glass of Exton Park's signature sparkling wine. 
Once all of the guests had arrived, the Italian Villa's garden was quickly filled with the sound of pleasant conversation and business networking.
And of course, no memorable party is complete without delicious food. So after an hour of mingling, everybody made their way over to the dining area, ready to be wowed by the chefs at The Italian Villa. And they certainly did not disappoint.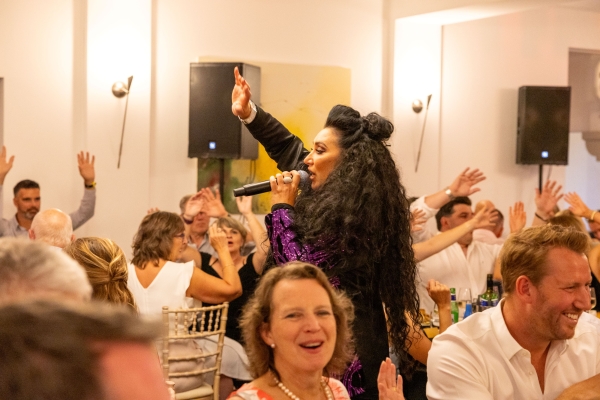 A huge thank you to our special guests, who did an amazing job of keeping the energy soaring throughout the night. Rachel Hawnt, the winner of Starstruck 2022 kicked off the evening with some popular songs, which had our members smiling, laughing and singing along. Her incredible voice combined with her charismatic stage presence made for a wonderful atmosphere for our members as they sat and enjoyed their food.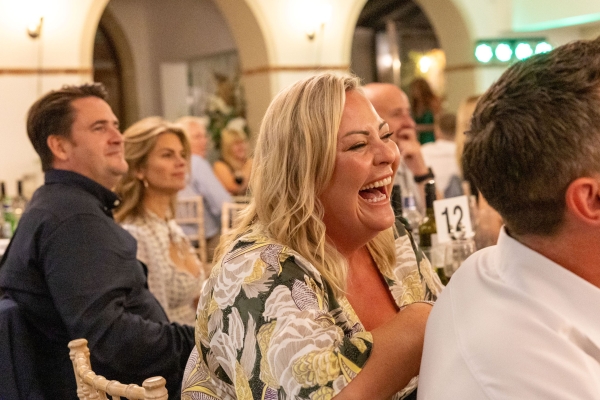 The night then took another exciting turn as the irreverent Paul McCaffery, as seen on Live at the Apollo, took centre stage. After everyone had done their best to shuffle out of the line of fire, Paul started with his routine, and had the guests cracking up from the beginning. Laughter echoed throughout the venue, and by the end of it there were definitely some hurting bellies and cheekbones.
Our goal with this event was to give our members a well-deserved break from the daily grind of business, but also to give them the opportunity to socialise with people from other Bizpedia groups. Hopefully everybody found it valuable as a networking event as well as having a lot of fun!
"We extend our gratitude to IFX and ACS for generously covering the bar tab, and a special shoutout to Denis Bundy for his outstanding role as the MC!"
Here's what a couple of members had to say about the night:
"Was a fab evening, lots of fun and lovely to see everyone and meet their lovely partners" – Lisa Delahunty, MD of Waste Management Facilities.
"Last week was a blast!🥳Thank you Sarah Watts, Josh Williams and all at Bizpedia for such a brilliant time at The Italian Villa at Compton Acres.🤩" – Hannah Wallis-Golden, Management Consultant at Hantec Systems Ltd.
We love hosting our members & can't wait for the next one!!